Buy Accounts with Twitch drops – Rust, Siege, PUBG & many more accounts!
Buy Gaming accounts with twitch drops – Rust twitch drops for sale, Rainbow Six Siege twitch drops for sale, PUBG, Battlebit and many more!
-Buy twitch drops rust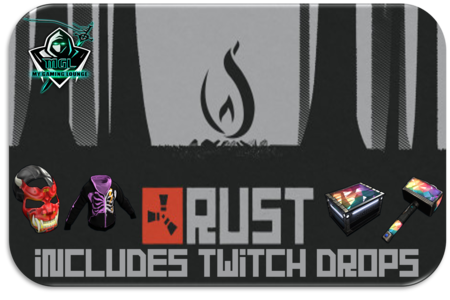 On this page, you can find Rust accounts with twitch drops, we have variety of Rust twitch drops account for sale which includes accounts with 8, 16, 23, 39, 46 & 51 drops. The amount of drops will vary every year depending on the stock and availability of drops for each year. You will get exclusive twitch drops for Rust even if they have expired on twitch since we have already redeemed all the drops by linking it to an actual Rust account! However, please note, that for every set of twitch drop account, we have a certain amount of stock. So, hurry up and pick your choice before it gets out of stock!
-Why should you buy Rust Twitch drops from us?
We provide variety of options for twitch drops starting from budget accounts offering 8 twitch drops which goes to account having 51 twitch drops! The best and exclusive thing about our store is that all the accounts have twitch drops already redeemed in the inventory and hence you do not need to spend your valuable time to redeem the twitch drops. This way, you are secure from drops getting expired and you can simply login and start enjoying the game with pre-loaded twitch drops in your inventory.
-Buying right right rust twitch drops
If you are confused about purchasing twitch drops, we have a quick note for you which might help you to buy the right twitch drops account. So, for every product, have have uploaded the images of twitch drops which will be attached to that account under product description. So, in order to choose the right twitch drop account, please click on each product and walk through the product description to find the product you are looking for. This will give you a glimpse of attached drops to the account and help you in choosing the right product!