Buy Rust Alt Account with Twitch Drops (Already redeemed in the account):
Please find below the options for all Rust alt accounts with variours twitch drops – Comes with pre-redeemed twitch drops in all the accounts with the need to link your account and redeem yourself manually.
Why should you purchase these rust alts or rust accounts?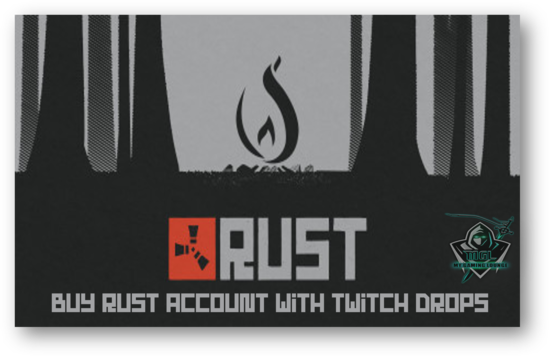 There are various benefits associated in purchasing your rust alts from us. The first and the most important one is the cheap price offered for these accounts. Normally, if you purchase an account via steam, it is expected to cost 30$+ however we provide the account in much cheaper price. Secondly, you get full access to the account which means you are the only owner of the account and none of the account is shared with anyone else. Having full access means that you'll have access to the steam account as well as the linked email address. Finally, you have lifetime revoke guarantee which means we can help you in recovering the account access in the event that your account is hijacked or hacked since we have purchase proof for all the accounts however we do not provide refunds or replacements for bans since they'll never be caused from our side. We sell fresh accounts with 0 hours played which proves that we have never touched your account and also, the hour boosted accounts are done in a safe environment and willl never cause any bans.
Why to buy Rust account with twitch drops from us?

We sell all twitch drop accounts with drops already redemeed on the account. This means that you do not have to spend your valuable time to link the account, redeem the drops and unlink the account for getting more drops through other accounts. We take all the extra work on our shoulders for your convenience!
Why to purchase Rust account with hours?
Rust account with hours help smurf players to get rid of majority of the reports from other players since hours on any accounts helps in looking legit. Normally, if a smurf player starts playing with a fresh account (0 hours), they can get reported by players for playing good with a fresh account since having less hours on the account is suspicious. Also, to join certain servers, there is a limit on the number of hours a player has to play before they are allowed to join the server.
Are these cheap rust accounts legit?
All the types of rust accounts available on our shop are 100% legit and come with full access. Apart from this, we offer lifetime revoke guarantee wherein if your account gets hijacked or hacked, we'll assist you in recovering back the account access. Finally, you can always check our rating on EpicNPC or discord server to get the list of our reviews/vouches.
What type of rust account are available?
We offer a varierty of rust accounts for you to choose from. Starting from the cheapest account, the rust fresh steam account is the best rust alt available on our store in case you are interested in getting an alternate account for rust as a smurf or in case you are looking to start playing rust. Secondly, we have rust account with hours on them. Finally, we also offer accounts with DLCs which includes Instruments bundle or Sunburn (latest) at a cheap price.
Are the rust alts or rust smurf accounts instantly delivered?
All the accounts available on our store are instantly delivered to your email address or else the details can always be viewed from "My account > Order section" upon payment confirmation. For more details, please check the page – "Where's my order" and enjoy the instant delivery of the accounts.