WHAT IS A SERVICE MEDAL IN CSGO?
Profile Ranks were introduced in Global Offensive as part of May 26, 2015
(Operation Bloodhound) update as a mostly cosmetic form of upgrading a player's status by playing on official servers.
By playing on official game servers, players gain experience points towards the goal of increasing the player's Profile Rank.
Although only 40 ranks exist, the player has the opportunity to reset his or her profile rank to start over. After reaching rank 40, a Get-Service Medal button will appear above the rank progress bar.
Clicking the button will reset the player's rank and add the service
medal to the player's inventory. Once the player receives a service medal,
he or she will not have to re-rank to Private Rank 2 again to play
competitive matchmaking. Starting with the November 10, 2015 patch,
the service medal can now be upgraded to level 2 by hitting rank 40
a second time. The player's rank is not reset each year, but rather the rank up will count towards that year's medal.
Since the profile ranks were introduced in 2015, players had access to following medals:
Cs go 2015 service medal,

Cs go 2016 service medal,

Cs go 2017 service medal,

Cs go 2018 service medal, and

Cs go 2019 service medal, and
REDEEM CS GO SERVICE MEDAL
It's quite simple to redeem a service medal once you have reached level 40.
For example, I'll show you the button for cs go service medal 2019 which is shown once you reach level 40: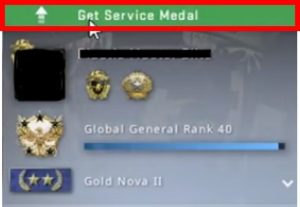 Once you click on the button, you will be redirected to the medal's showcase page: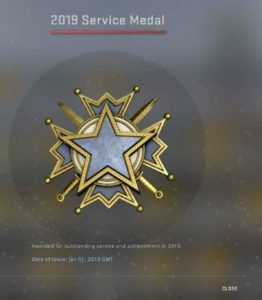 That's it, now you can display it along with your profile by right-clicking on it in your inventory and clicking on "Display Item".
Hope it helped. Please don't forget to leave a comment in case you followed this tutorial! 🙂
You can get CSGO Service medal accounts from our store – CSGO High Tier Accounts/CSGO Top Tier Accounts/CSGO Medal Accounts/High Private rank CSGO Accounts